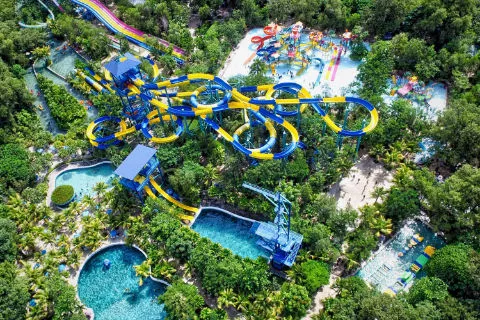 Fun Things To Do In Penang
Penang is an island in northwest of Malaysia that is known for its heritage colonial history and cultural richness its also home of UNESCO world heritage in its capital George Town with its incredible variety of food choices that only Penang residents know how to make best, in this article we are going to be exploring some of the fun things you can do in Penang if you're a Tourist or a local Traveler.
Here's a list of fun things to do in Penang for you!
1. Kek Lok Si Temple | George Town
Kek Lok Si Temple is considered one of the biggest temples in southeast Asia being an important pilgrimage centre for Buddhists all over the world.
Being over a hundred years of structural age it will truly give you the sense of its ancient energy with its beautiful religious designs.
Decorations containing ten thousand alabaster and bronze statues of Buddha and a hundred and twenty feet tall statue of the goddess of mercy Guanyin definitely visiting Kek Lok Si temple is a great way to start your tour in Penang.
2. Penang Hill | Bukit Bendera

Having the steepest tunnel track in the world and the longest in Asia. Penang hill is the highest point of the island at an elevation of 833 m (2,733 ft) above sea level providing a birds-eye view of the capital.
With a view so desired and chilly windy weather would definitely be an awesome walk to experience. You can take a stroll around the hill to relax by the hill bar or take a look around to enjoy the carefully dressed floral fences or discover religious and historical monuments.
3. Escape Theme Park | Teluk Bahang
Escape Theme Park, the perfect place for you to have an energetic fun or even a relaxed day out with friends & family experiencing the thrill with one of the worlds longest slide.
If you're not into that, there are many activities for everyone in this 29-acre adventure park. Definitely an amazing full day experience if you're looking for a fun activity in Penang.
4. Entopia | Teluk Bahang
Entopia is an exploratory kind of fun, its a hub of nature butterflies and insects over 150 fauna and flora species in a three-story building with indoor and outdoor activities.
All showcasing different themes and fun environments for each segment of the place. You will get to discover new information with a very friendly and fun educated staff.
You can visit the gift shop and browse through the endless worthwhile memorabilia from framed rare butterflies and rare kind of beetles with impressive sizes you can bring back with you as a souvenir from this nature-rich fun place.
Fun Things To Do In Penang​
Fun things to do in Penang​ that you should not miss.