6 Most Famous Pastries In Hong Kong
Hong Kong is not just a food paradise but pastry heaven as well! Hong Kong pastries are worldwide famous. Almost all of them could trace back to history and consist of interesting cultural and traditional values. Some of them come from China where the Chinese immigrants bring them in and others come from colonisation.
Here are some of the most famous pastries in Hong Kong!
1. Pineapple Bun | Kam Fung Cafe
Pineapple Bun is a classic sweet bun famous in Hong Kong. Despite the name, it does not contain any pineapple. It is called so because the skin of the bun resembles a pineapple skin. 
This is achieved by a special baking technique that makes the top of the bun into crispy, crunchy and sweet topping with pineapple checked-like pattern. 
While the top of the bun is made from cookie type dough, the rest of the bun is soft normal bread dough. 
This bun is commonly served like a sandwich where it is sliced through the centre and eaten with butter.
Kam Fung Cafe is an old school Hong Kong style cafe that has been in most locals' childhood memories since 1957.
Pineapple bun is their best selling bun because their buns are not only soft and fluffy but moist and delicious in the bread part too. 
Not to mention the level of crunchiness of the top of the bun which is in a beautiful golden brown colour. 
This cafe is the best retro cafe in Hong Kong if you want to try out all the traditional pastries, snacks and tea of the olden days.
2. Egg Tart | Tai Cheong Bakery
Egg tart is derived from the Portugese custard tart through the Portugal colonies in Macau. 
Basically it is a crunchy outer pastry crust filled with egg custard. While Portugese custard tart has a sugary top, the traditional egg tart is not. 
Although nowadays, egg tart has become one of the dim sum's delicacies, it is still a popular snack to eat on its own. 
Today, you can find various kinds of flavour apart from egg tart there are chocolate tart, green tea tart and bird's nest tart.
Tai Cheong Bakery is a world famous bakery in the field of egg tarts given that the Hong Kong's former governor Chris Patten had openly admit that he is a fan of their egg tarts. 
Despite being on the pricey side of the industry, Tai Cheong Bakery deliver their egg tarts in a quality that is worth the price.
The pastry crust is crispy and crunchy while the egg custard inside is every bit of sweetness and smoothness.
3. Egg Puff | Lee Keung Kee North Point Egg Ball
Egg Puff is not commonly found in bakeries, but you can't miss out on them in night markets or streets.
I'm sure you can't just walk off the vendors who are cooking these egg puffs on the streets after you get a swift of the delicious smell of the grill egg puffs. 
These sweetened, crispy, crunchy, golden brown egg snacks are impossible to resist. They are like a giant edible bubble wrap. 
In fact, now it comes in different flavours from the normal chocolate, strawberry, honey to green tea, black sesame and red bean.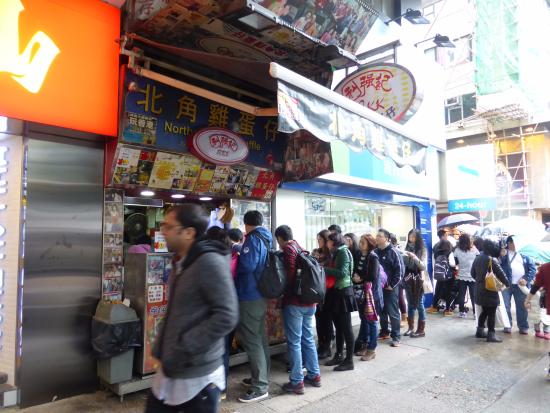 This shop have been recommended by the Michelin guide and is famous throughout Hong Kong. 
Their egg puffs are on the crispier side, so if you are into crunchy biscuit-like snacks, this is the one for you.
4. Wife Cafe | Hang Heung Bakery 恆香
Wife Cake have a few variations of names, from sweetheart cake to marriage pie. 
This is due to the Cantonese name of the pastry which is Lao Po Beng that can be literally translated as wife cake or old lady cake. 
Basically, Wife Cake is a traditional Cantonese pastry with thin flaky pastry crust and winter melon, almond and sesame paste as the fillings. 
Hang Heung Bakery is a famous bakery in Hong Kong. They sells high quality pastries in beautifully wrap gift box that most tourists bought back home. 
Other than their best seller wife cake, they also produces a variety of pastries such as century egg pastry, egg rolls, egg tarts and mooncake.
5. Almond Biscuit | Koi Kei Bakery
Almond Biscuit is an especially famous pastry in Hong Kong and Macau. They are made with ground almonds and are very nutty and creamy.
There are no fillings in the biscuit, the whole thing is just made from almonds, which makes it fairly crunchy after being baked.
Almond biscuits are a popular souvenir and pastry to bring home from Hong Kong and Macau.
Koi Kei Bakery has been one of the big name bakeries in Hong Kong. It is famous for its delicious almond and peanut biscuits that every tourists have to bring back home.
6. Mooncake | Yat Tung Heen 逸東軒
If you know what the Mid-autumn festival is, I'm sure you'll know what mooncake is, because they are inseparable. 
Mid-autumn festival is a Chinese traditional festival for lunar worship and moon-watching and mooncake is commonly eaten on this festival. 
Traditionally, mooncake is a round-shaped baked pastry filled with either lotus seed paste or red bean paste and complemented with an egg yolk.
They are condensed and rich in flavour, so it is normal to share a mooncake with families and eat it with tea. These days, there are various versions of mooncake, cold, jelly, ice cream and fruit mooncakes. 
Mooncake is a very expensive and luxury pastry in Chinese culture because we take our Mid-autumn festival very serious. They commonly come in fancy packaging and beautiful decorations. 
However, Yat Tung Heen is keeping sustainability in their mind this year by producing mooncakes in reusable bamboo steamer.
This is also a reference to Hong Kong's famous cuisine Dim Sum which cooks in these bamboo steamers.
6 Most Famous Pastries In Hong Kong
The Most Famous Pastries In Hong Kong that you should not miss.